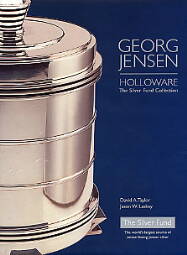 Georg Jensen: Holloware – The Silver Fund Collection is a necessary book for everyone, who is interested in Georg Jensen silver. Never before has a systematic survey of the holloware been published, and never before has a book so consequently beautiful about Georg Jensen Silver seen the light of the day.
David Taylor and Jason Laskey have systematically photographed and described all holloware, that has been handled by The Silver Fund during the last 10 years. The Fund has been very consequent in it's purchases, og there can not have been much holloware in general circulation outside The Silver Fund. It has been lack for collectors, professional dealers and everyone with a general interest for Georg Jensen's fantastic production, that a structured survey of the works has not existed. This book is not complete, but it is as close as one can get without access to the files at Royal Scandinavia/Georg Jensen.
The items are listed according to design numbers. This is only to some extend chronological, and e. g. many of the Blossom-designs – that carry design nr. 2 from 1905 – were made in 1919. But because the book is systematic, it is very useful. For each item size, design year and weight is listed. There are only few errors in this enormous amount of information.
The photographs are also shot in a consequent way. This gives the book a very professional and tempting expression. It is fantastic to leaf through this book.
The introduction by Sigvard Bernadotte is moving, just like Georg Jensen's memoirs.
This book is a must for everyone interested in Georg Jensen Silver. It only covers the holloware, but rumours tell that a jewelry book s going into production.
Michael Krogsgaard
David A. Taylor & Jason W. Laskey: GEORG JENSEN: HOLLOWARE - The Silver Fund Collection.
The Silver Fund, London, New York, 2004.
Richly illustrated, sider.
Price 698,- Danish Kroner incl. VAT.
Order here

The Unknown Georg Jensen
This book is about the many lesser known or unknown sides of Georg Jensen's great life work. The reader is taken through the first important periods of his life: as sculptor and as potter and modeller with many details, and his artistic development up til the establishment of his silversmithy in 1904 is described. The book tells of the first laborious years as silversmith, the breakthrough in 1904 at the autumn exhibition af the Danish Museum for Decorative Art, and the comet-like carreer to fame, resulting in gold medal at the World's Fair in Bruxelles in 1910. The spectacular but quite unknown collaboration with architect Anton Rosen, that resulted in a large order to Georg Jensen to produce all silverware for the Palace Hotel in Copenhagen 1909, is researched and presented for the first time. A chapter tells about the years 1924-26, when Georg Jensen emigrated to Paris and started all over with a new, small silversmithy of his own. The book concludes with a chapter about his last ten years, when he lived in Hellerup, Denmark, and produced most of his designs in his own silversmithy in his basement.
Georg Jensen's life was like a fairy tale. The book tells about his victories and disappointments, and about his creativity and his powerlessness.
The complete listings and illustrations of the works he did for P. Ipsen's Widow's Terracotta Factory (23 models) and Palace Hotel (illustrated with Georg Jensen's drawings) have never before been collected, and they are very useful for colectors and admireres of Georg Jensen's art. The outlines of stamps and marks have much more information than any previous outlines, and also give practical and useful tips.
The book has more than 130 illustrations, and most of these have not been printed previously. The photograph of Georg Jensen with his sons Vidar and Jørgen is moving, and the photo of a very malancholic Georg Jensen at the 25th anniversary of the silversmithy in 1929 is thought-provoking.
This book contains a lot of information that is not available anywhere else, and it is a necessesary publication for everyone who loves Georg Jensen's art.
Michael Krogsgaard & Liv Carøe: The Unknown Georg Jensen.
With Jens-Jørgen Frimand & Maria Damm.
The Georg Jensen Society, Copenhagen 2004.
Richly illustrated in colour, 86 pages.
Price: 198,- Danish crowner.
Order here